Yes, I know the background gets in the way of the text a little but I like it and its not a business page so live with it, I do.
Victory Vegas
Pure sex on wheels...curvy, vivacious, beautiful. There is no denying it, the Vegas is pure sex on wheels.
The first part is some current info and the second part of this are some intial test ride reviews that I did on a motorcycle web site when I first test rode the bike and then about a week after my purchase. I of course now have more details, but I left the originals there for information. I also have my fuel logs on-line if you want to see my mileage.
What a bike !
9-12-06- Nice long ride today as I was sick (cough cough), great ride as a matter of fact, went up to Solvang for lunch and then just kept riding until I was very late for dinner. A month ago, I took the longest ride on the bike since the cruise control and floorboards, went to Monterey for 3 days, about 5 hours ride each way. The floorboards which I still think are ugly sure do make my feet happy, they no longer feel like I have been standing on a ladder for hours when I get to my destination, but by FAR the very best thing I have done is install the Brakeaway Cruise Control, that thing is a dream. I also put on the ISO grips but with the cruise control, I am not sure I needed them.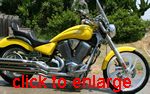 7-26-06- Gave the girl a bath today (don't all of you go into shock now), yes its the first bath in a year and half but after getting stuck in that rainstorm a few months ago she has been filthy ever since. Last time she was this clean was for the North/South run and we all remember what happened there with the dammed railroad tracks, so lets hope it does not happen again now that she is clean. Got more toys today, Brakeaway Cruise Control and ISO grips, nothing wrong with the original grips really, but I am told the ISO are that much better.
6-26-06 - Love this bike, have more miles on it than my last 2 bikes combined and still loving it. Its a awesome bike and the more I play with Victory bikes the more I can recommend them to anyone who might be thinking about a Vic. I took it for a medium long spin of 300 miles yesterday and had a wonderful ride, its awesome on the highway and pretty dammed good on the curves as well :) And the curves are where life should be lived.
6-15-05 - Several people commented that my gas tank looked "bland" without the Victory logo, so I upgraded :)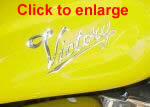 5-5-05 - Ouch...had a "incident" with railroad tracks during the North/South run. I found a railroad crossing that had a rather large pothole just in front of the railroad track, naturally I hit that pothole at speed. My front wheel went into the 8" to 10" deep pothole and smacked the railroad track HARD on the way out of the pothole. Knocked all my mirrors off and gave the bike a major shaking up but seemed ok. After getting back to the hotel the damage was found, I bent my front wheel :( Did not lose air pressure but I rode home awfully slow and easy.
The Changing of the colors

looking good

its a tough job riding this road but someone has to

top of the mountain

back by the beach
11-17-04- Loving this bike... 8,600 miles on it and I had to take it in for a gas tank recall, I really hated that because after what I went through with the tank, I liked my new paint job. I also had thought about it for a long time as to putting the badges on and I put them on after several months of thinking and "bingo" tank recall, now I have no badges on again and thinking again, "to badge or not to badge". However, I really really really enjoyed the ride up and back down home, 123 miles to the dealer and 185 miles home, taking the long way. I got to enjoy the S. Calif. version of the changing colors of fall and its not like the East Coast but I liked it (It was much warmer), then ended up on the coast and had lunch in some little dive that had the best calamari and chips I have had in years, sometimes the little dives are the best.. Overal, I had one of the best rides I had had in years, I was sorry to arrive home.
1-13-04- Well, I have put 3,500 miles on the bike now and I am in love, I finally replaced the terrible chunk of foam and plastic that Victory had the nerve to call a seat and the bike now really rocks. I put on a Victory Touring seat that at first felt quite hard and I was sure I wasted my money but after a few hundred miles, I found it to be a great seat and my wife and daughter even like the bike now. They both find the new seat to be quite awesome. I then purchased Victory leather covered saddlebags, technically Kingpin bags. I really thought hard about these and I had waited several months for GhostBrackets but I got tired of waiting and these bags actually look good on the bike. The bike still looks better naked but these bags dont distrat too much, I have found that I really like these bags. On my old bike the bags were a pain to put things in due to the leather flap and rainproofing flap, these just open and voila put things in. I also purchased these bags because the Victory brackets for them are very easy to remove so I can take the bags off easily. I changed the oil at 2,500 miles and put in Mobil 1 V-Twin full synthetic to try and quiet the primaries, it didn't help but I am told Amsoil does quiet them. I also put the badges back on the tank the other day even though it does not show in the above pics, more pics will come I am sure.
So what can I say that I have not yet said about this bike ? I was thinking of doing a long term review but 3,500 is not long enough, I need to go riding more :)
These pics were made with a cell phone camera so the quality is not great but it is what I will using mostly from now on since I will always have it with me.

11-20-03- (cough cough) I was sick today (cough cough) so in hopes to feeling better I took her out for a spin. Went down Highway 1 and had a glorious ride, had lunch at a place called Neptunes Net (ok not great food but I will try it again). After that I kept going South following the ocean and went back over to 101 over the Santa Monica Mountains, got on 101 and took 23 to Fillmore, I just didnt want to get home and kept riding all over. I went 85 miles from home but ended up putting 226 miles on the Vegas. It was a beautiful day with temps in the high 60's and low to mid 70's, perfect for being sick (cough cough) and going for a ride.

11-13-03- Put on the clock on the handlebar (first accessory), kind of cool to not have to remove my gloves and know what time it is. What a bike, have over 2,000 miles on her now and I can't wait to get on her again and ride some more. That is more miles in 2 months that I put on my Virago in the last 3 years. I took a ride to L.A. last weekend, 230 miles round trip, not a big one but that bike needs a new seat. I look forward everyday to riding like I used to many years ago before I bought my last bike (Virago) The rear brakes are pretty aweseome, have to be careful with them, locked up the rear wheel the other day when I hit one of those painted arrows on the road, never did that with other bikes which shows how great the rear brakes are and how I was not paying as much attention as I should have. They actually feel like they do more braking than the front which I know is impossible. The HID headlights are really impressive and maybe its wishful fantasy but I seem to have fewer idiots cut me off around town., maybe they are seeing me. It has been suggested by several friends I give this bike a name and given my first line on this page about how sexy the bike is and how much this bike begs to be ridden, it has been suggested I call her "sl*t" because anything that begs to be ridden this much and is this sexy must be a "s*ut" problem is how do I call her around non-friends or some family members. But she sure BEGS TO BE RIDDEN HARD, what a great bike.
She is back and running sweet
10-21-03- Well after 4 weeks, I got it back with a new paint job and no badges on the tank, I think I like the badges better. It was running a little rought but after 15-20 milles it smoothed out, I think it had some air still in the lines when I picked it up. The tank looks GOOD, at first I was not happy with the matching job but now I am not sure why I even noticed it since I can't see anything wrong now. Put 540 miles over the weekend and then went to Monterey for the next weekend, another 600 miles. While it was in the shop, I got the HID headlights and all I can say is WOW ! that really brightens up the road. I need a new seat and it will be a perfect bike. In a few weeks, I will be putting on GhostBrackets and saddle bags, I hate bags but they are sometimes a neccessity, the GhostBrackets will make them easy on/off. Without the badges people have no idea what kind of bike it is and it is a lot of Yellow I must admit, I spoke with the painter this week and might get some flames. Since I already have put more miles on it in the last 8 days than I had when it broke, I am getting comfortable with it again and I love my Vegas.
DISASTER ! Yup, I bought an American bike allright.

9-13-03--A nice typical American Bike, on Saturday 9-13, I thought I would take my 13 year old daughter on the Vegas to her friends in Thousand Oaks where she was going to spend the weekend. On the freeway rolling along at 70MPH with 886 miles on the clock, the bike just up and died, no warning, no nothing just died. That was NO FUN, I had to scoot over 2 lanes on a busy freeway and then park the damm thing on the emergency lane and sit there with my daughter for well over an hour before my wife showed up and took my daughter, another hour or so and the tow truck arrived. Best part is I had to borrow tools from a Harley rider to try and get it running, so much for Victory's being more reliable. Victory Roadside Assistance was GREAT however. Too bad, I could not get the bike to my dealer because my dealer is too far away and taking his sweet time picking up the bike from my house. At this point, I would have to recomend people to stay away from Victory bikes unless they have a dealer nearby, I love this Vegas but with what I know now, I should not have purchased my bike. You need a dealer nearby or don't buy a Victory. Yeah, I am told its a reliable bike, well mine is not and I am out of a bike for several weeks or more. A nearby dealer would already have had the bike. You can see below that I was concerned about his back in July.
9-26-03--One more disaster...the dealer messed up my gas tank while they were working on my bike. The fuel pump is what went out and it is inside the gas tank, during the re-assembly they tore up my tank :( The dealer at first was going to "patch" it up and I got pretty upset, now they are willing to replace or repaint the entire tank. I was going with a new tank but a repaint will be ok with me as long as it looks as good. My reasons for going with a repaint were 1. trying to be a nice guy to the dealer (hope he remembers) and 2. I was thinking it would be a good time to "upgrade" my tank with some pin stripes or flames. Unfortunately, I cant think of any design so I will get a simple Yellow tank as before. I also am frustrated and just want my bike back...I just want to ride...
Life is in the details, so here they are.
Its a 2003 Victory Vegas, with a 1507cc engine, stage 1 exhaust/upgrade and the awesome Victory Billet wheels. Its a great handling bike and I purchased it from Powerhouse in Paso Robles, I am pretty happy with the deal I made. I got the best deal I could in S.Calif., I could have saved money by going out of state but I felt Dean at Powerhouse was giving me a good deal on the bike I wanted. I found cheaper Vegas's out of state and I found a dealer in L.A. who was willing to give me a better price on the bike but by the time I threw on the accessories Dean had him beat by a long shot. I also wanted a Yellow Vegas with Billet wheels, period, Yellow or no bike and there was no such bike in L.A.. I did find a Yellow one in Arizona and I would have saved quite a bit of money but I assumed that if I bought one for a S. Calif. dealer I could get problems resolved easier. I would recommend Dean and Powerhouse to anyone without a doubt. As a matter of fact, I already have to several people.
Some thoughts on the bike, the headlight sucks like I say in the review below, the high beam warning light is blinding and I have to dim it out down somehow, it is really distracting and the seats are the worst of all. How in the hell Victory could sell a bike with such shitty seats and be proud about it is beyond comprehension. Wow, that is it for what is wrong with the bike, told you it was a great bike. The ergonomics are really good for (once you get past the seats) and I have gotten 8 people giving me thumbs up or "nice bike" while on the road, that is 8 more than I ever had on any bike, this bike gets attention. The 8 by the way are non-bikers which is why I was surprised, bikers seem to really like this bike also.
I will add to this as time goes on, in the meantime you can read my pre-purchase and 500 mile review down below. Come back soon as I am planning a trip to N. California for a week starting Sept. 27 I will post a nice long ride review around Oct. 10.
My initial thoughts and reviews
7-15-2003, I posted this on a mortorcycle web site and got very favorable replies
I saw my first ad for a Vegas about a month ago and loved the look of the bike. I went and test drove one last weekend, put about 80 miles on it mostly on what I would have called a straight road about 10 years ago. Long sweeping curves at 60MPH mostly (some were much faster ) and some freeway riding. I thought the bike was AWESOME.
I am ready to plunk my money down and the dealer says he can have one in the color I want by the weekend, but I have some fears.
This Vegas would be the most expensive bike I have ever bought and I have concerns about reliabilty, I have been spoiled by Japanese bikes that just never broke down. I have some concerns about long term feasability of the company to get parts from in the future but that will not break the deal. I found the sitting position to be just perfect for me but either the seat was hard or the ride is harsh. I noticed the first few miles that it seemed to ride harder than my Virago but I didn't notice that by the end of the ride so I am not sure what that means as far as ride is concernced. I do know I didn't like the seat, it has a ridge that just hit my backside wrong....I would have the foam shaved a little or get a new seat from Corbin (they make one). The demo bike had a Stage 1 upgrade and had good power and louder than any bike I have had but I kind of liked it. I still have not heard the stock exhaust yet. One complaint I heard a lot was low peg height and scraping on the corners...those guys ride harder than me if that is happening.
I think my immediate concern is reliabilty and since the bike is so new, I am not sure that can be answered yet. I do mostly short rides, 100-150mile each way from home, maybe 4 or 5 times a year go up the bay area, 360miles each way. I don't want to be worried about breaking down and how to get home to get my truck and trailer. Plus the dealer is 126miles away so its not a "drop off the bike during lunch hour" kind of thing.

7-26-2003
Bought the bike, oh YESsssss !
8-1-2003, on the motorcycle web site I was asked to post a breif review of the bike
What can I say, I love the bike, it now has 580 miles on it.

It has the stage 1 exhaust which I was afraid would be too noisy but my neighbors say its not (I asked). It sounds great and the power is more than I imagine I will ever want. I find the noise of the gears to be distracting when idling but once moving its fine, with the stock exhaust the dealer said all you hear is mechanical noise and I think he probably would be right. Several non-biker friends have asked what is that noise as it idles. There is more slop than I am used to in the first few gears but I am told it is much improved over the earlier Victory's and it is not really that bad, just more than my prior bikes (Yamaha, Suzuki). The slop kind of makes it hard to drive smoothly in traffic, I don't notice it but my wife does when she gets jerked back, I guess since I am doing it I dont feel it. The brakes are quite good, the rear brake seems to be a lot more effective than any other bike I have ever had. I am assuming it is because is heavier and has more weight on the back but it sure works great. The front brakes are also very good, I was concerned going from 2 front disks to only one but not anymore, it really works. The suspension seemed harsh when I first went from a Virago to this but I have already gotten used to it and rides nicely. I imagine that after a few hundred miles in one day, bumps would be much harder.

The handling is phenominal, I am very happy with the handling, for a big bike it really takes the corners well, the pegs are low but not a problem for me, I have gotten close to scraping a peg but not done it yet. I purposely rode with my heels down on a twisty road to use my heel as a "feeler' and I had to ride harder than I normally do, to scrape so I am happy. I should say that I have been riding bikes in the 750's range since high school so this was a big jump for me. The first few miles I was "driving like a old woman" to use my wife's words, I don't know if it was because of the size or the cost of the bike, but I settled down very quickly and I am drivng back to normal now. It likes being thrown around the corners and it steers very easily, just kind of look where you want to go and it goes there.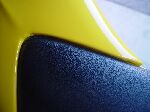 The finish leaves something to be desired. All around the gas tank, there are quite a few rough spots at the seams. Especially at the V where the seat comes up to the tank. This is now fixed due to the repaint. My wife commented on them while at the dealer and I loved the dealers answer "well its an American Bike, not a Japanese bike". It really does not distract from the look of the bike at more than a few feet away, its just not the fit and finish quality of a Honda. For me at 5'8" the riding position is awesome, I had a problem with the pegs forward for about the first 5 stops and never looked back, I can ride this thing for 120 miles non-stop and not be sore or tired, my Virago didn't fit me as well due to the foot peg positions. The handlebar position is perfect, right where I would have placed it on my fantasy bike. A 6'2" friend said the pegs were not far enough forward, but he also only sat on the bike, didn't ride it (and never will). I have not had the problem with the seat that I had on the bike I test rode.

They make a HID headlight and I think the bike needs it, its a big headlight but does not seem very bright on mountain roads.